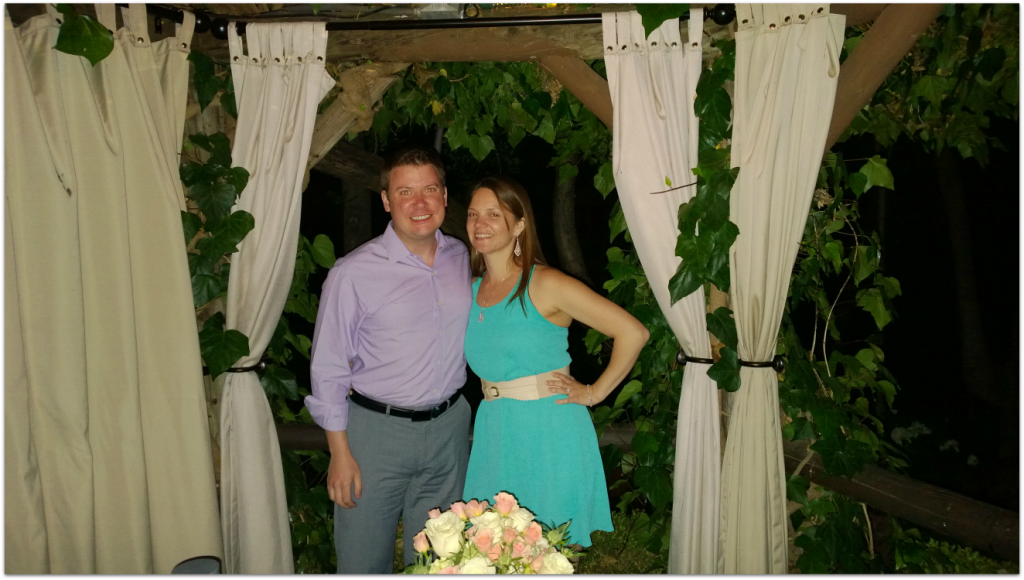 It is hard to believe but we met in Memphis over six years ago. It all started at a Memorial Day camping trip with mutual friends.  We certainly owe a lot to that day and those amazing friends (especially you, Michelle!).

As fate would have it, this was only two short months before Michael moved to Las Vegas for his orthodontic residency.  The time we had really seemed to fly by.  A new relationship was neither planned or convenient and the resulting two year long distance relationship was a true test of our love for one another.

After those two years, Annie was finally able to move to Las Vegas where we were at long last able to be together. We loved living in Vegas, but were excited to finally start the next chapter of our lives and couldn't be happier with our recent move to Arizona.

We have landed in a beautiful home in Goodyear, AZ. In fact, Michael moved everything into our new home and, on the same day, surprised Annie with a trip to a resort spa in Sedona.  He claimed it was just an anniversary surprise…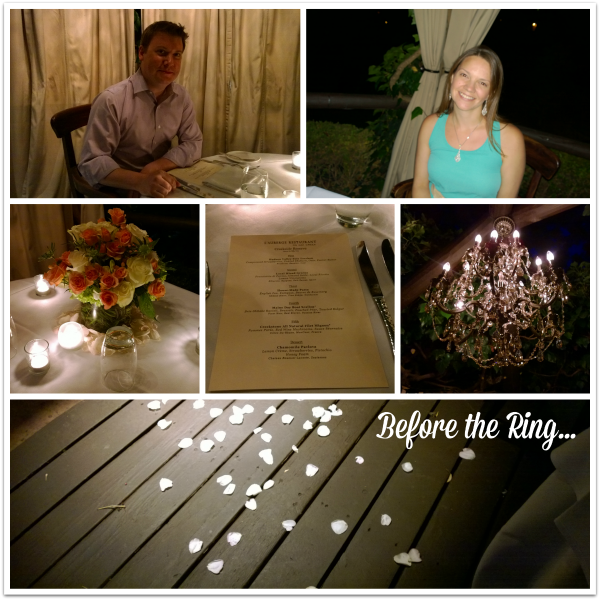 The engagement was a complete surprise. Annie had previously planned a camping trip at our favorite campground, 
Lo Lo Mai Springs
, four months in advance to celebrate our six year anniversary. Michael canceled the reservation in secret and booked a stay at the luxurious 
L'auberge
 in Sedona. Annie had hinted that she would love to stay there but never imagined it could happen so soon.

As we arrived, a valet took the car and luggage.  The features of the resort were explained and afterwards Michael suggested we go directly to dinner rather than to the room.  The restaurant was gorgeous with outdoor seating next to a babbling creek so it was not suspicious when they explained that we would be dining at the Creekside Reserve.  You might think the private dining and rose petals on the ground would have given it away, but Annie was not convinced that this was the moment until Michael started talking about not wanting to spend the rest of his life with anyone else, and reached for his pocket. That's when the tears started flowing. Not a moment later Michael was down on one knee, saying those four words many girls dream of one day hearing. Through tears, Annie exclaimed "Yes! Of course!!"


The ring was (and still is) super sparkly. Annie had no idea of the design Michael had chosen. We had discussed rings many times before, but Annie had always insisted on a simple ring, while Michael tried to get her to envision something with some added style. The ring is unique and beautiful, and Michael pointed out later that the design choice was influenced by the design similarity of the ring to many of Annie's other jewelry pieces that Michael has gifted to her over the years. It is a perfect ring!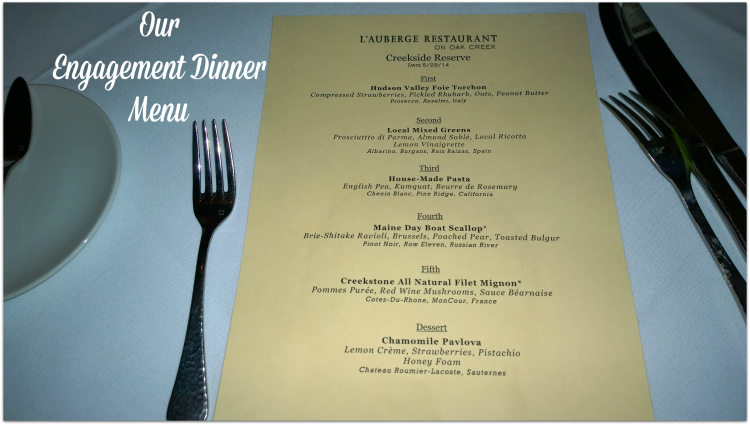 The best part about the before dinner proposal was that it gave us the rest of the amazing night ahead to discuss the details of Michael's secret engagement plans… and to enjoy a one of a kind dinner in pure joy without the getting engaged nerves! Michael revealed that L'auberge had assigned him an event coordinator, Kirsten, who ensured that everything associated with our weekend in Sedona would run smoothly.  Kirsten had even popped into our dining area when Annie was away for a few moments to introduce herself to Michael in person and make sure everything was going okay.
A dedicated waiter served a six course meal prepared especially for us by the chef, complete with wine pairings for each course.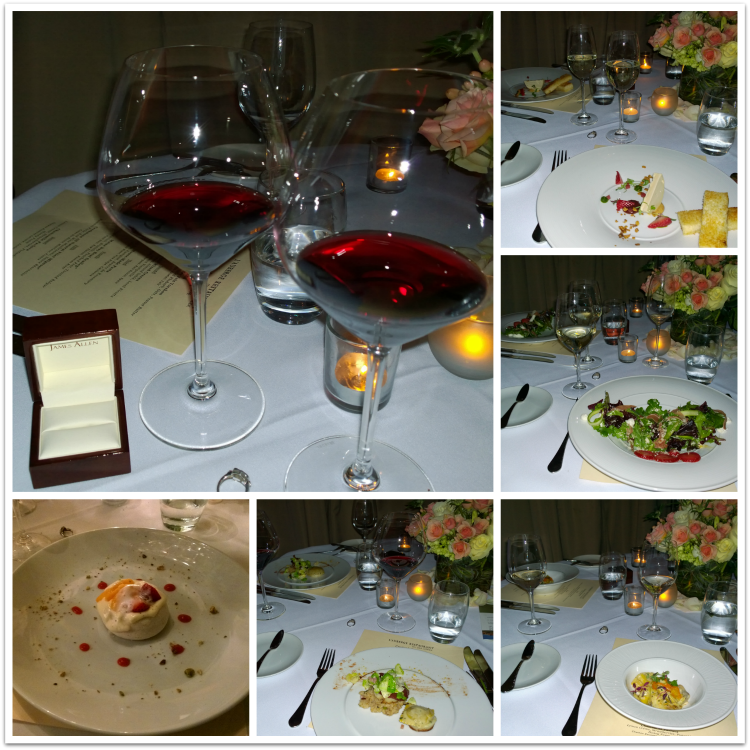 Everything was delicious, to say the least. The restaurant at L'auberge is open air, situated alongside Oak Creek. We enjoyed a lovely creek serenade the entire night, and couldn't have asked for a better atmosphere. There was even a space heater to keep Annie warm already setup upon our arrival. Somehow we didn't get a photo of the filet mignon course, probably because we were so eager to enjoy it!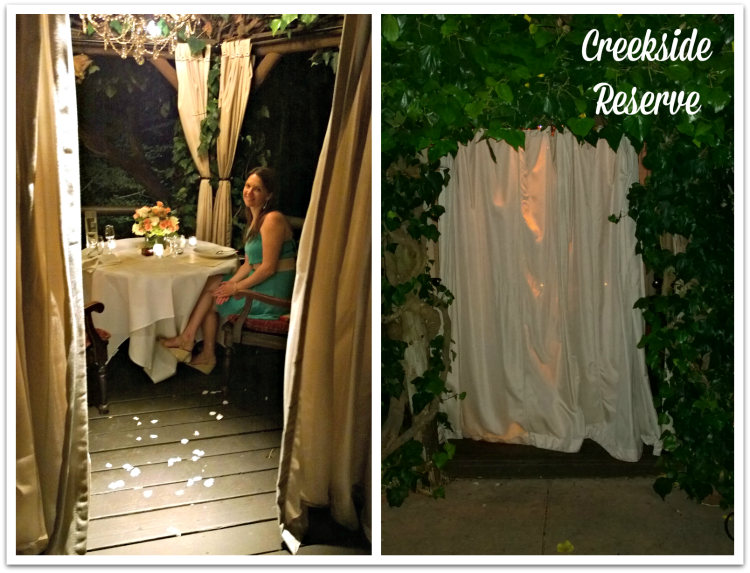 When Michael proposed the curtains to the "Creekside Reserve" were open, and we could tell there were a few onlookers to our engagement moment. It still felt very personal, and we could tell whoever walked by was only taking joy in our moment. A few dinner courses in, someone drew the curtains, making it even more romantic (as if that were possible!).

We certainly shut the restaurant down! As hard as it was to leave this wonderful event behind, we knew it was only the beginning of what would be the best weekend of both of our lives (so far!).